With few, if any, rivals, the Kawasaki sport touring Ninja 1000SX has been one of the stand-out machines of recent years. Carving itself an enviable niche as a machine that has supersport handling and DNA combined with the comfort and flexibility to tour solo or with passenger, the Ninja 1000SX has won the highest praise winning countless magazine and web site road tests.
Now in its fourth iteration, the Ninja 1000SX has been gradually refined and features a magical mix of features that combine to create a machine with real pedigree. The recent adoption of a sporting four into one exhaust and more angular cowling combine with radial mount mono-bloc front brake calipers, a radial mount master cylinder and horizontal back-link suspension plus up/down quick shifter to display authentic Ninja credentials.
And from a touring perspective, clever touches abound. In terms of luggage capacity, the combined total capacity of the accessory panniers is an impressive 56l plus a clean mount pannier system means that the supersport style of the machine is not marred by an ugly framework when the panniers are removed. Seat comfort has also recently been upgraded along with greater wind protection from a screen offering a wide range of adjustment to fine tune the ride.
In terms of electronic rider aids, the assistance is myriad thanks to the adoption of an IMU that, along with the ECU, measures inertia in six axis plus electronic cruise control as standard. Alongside this, selectable integrated riding modes and a cornering management function are standard as well as power mode selection, KTRC traction control, supersport level ABS and smartphone connectivity between the all-digital TFT colour meter and the riders' smartphone via Kawasaki's Rideology App.
Default choice for a legion of riders who want their machine to multi-task and excel at whatever it is asked to do, the 2022 Ninja 1000SX will deliver a truly unique combination of competencies.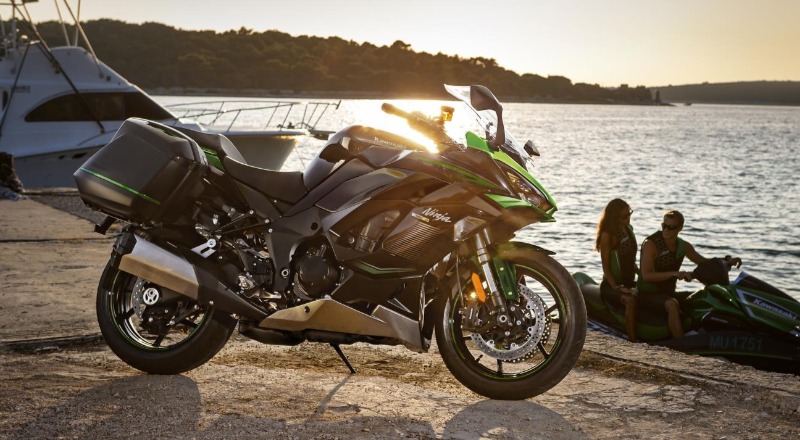 Colours for 2022 will be:
Metallic Diablo Black/Pearl Robotic White
Emerald Blazed Green/ Metallic Diablo Black/Metallic Graphite Grey
Metallic Matte Graphenesteel Grey/Steel Grey/ Metallic Diablo Black
Re-energising one of Kawasaki's most lusted after paint schemes from the 1970's, the new Z900RS SE model for the 2022 season will be available in the classic "Yellow Ball" livery of the original 1972 Super Four, model Z1.
Although the most obvious sign of this new variation on the stunningly popular Z900RS theme, the modifications do not stop there. Again, reminiscent of the type of tuning performed by enthusiasts back in the day, the Z900RS SE comes equipped as standard with an impressive array of other quality specification upgrades including changes to suspension and braking components.
An easy spot at the rear of the machine, the SE model features an Öhlins S46 rear shock with preload adjuster. Featuring an aluminium body with single-tube construction, the large ø46 mm piston plus internal oil and gas chambers separated by a floating piston result in a superior sense of grip and handling.
And up-front changes have also taken place with the 41mm inverted front fork not only resplendent with gold-coloured outer tubes but with standard settings refined to create an ideal balance of front/rear poise and reaction across the whole range of suspension travel.
Braking too has seen a change with the adoption of a Brembo caliper and rotor package for the front end. The twin ø300 mm Brembo front discs are gripped by Brembo M4.32 radial-mount monobloc calipers served by a smaller-diameter Nissin radial-pump master cylinder (down to ø17.5 mm from the ø19.1 mm on the standard model) activating braking action through stainless-steel braided lines delivering greater stopping power while offering linear progression when operating the lever.
Cosmetically, the Z900RS SE, which features the "RS" letters of the model logo on the side covers finished in red, is differentiated even further via black alumite radiator side covers and FI cover plus gold coloured multi spoke wheels. The "icing on the cake" of course is the so-called "Yellow Ball" paint scheme pulling on the heart strings of dedicated Z1 fans plus legions of new riders attracted to the ever-growing retro sport scene willingly immersing themselves in Kawasaki's decades of unique Z heritage.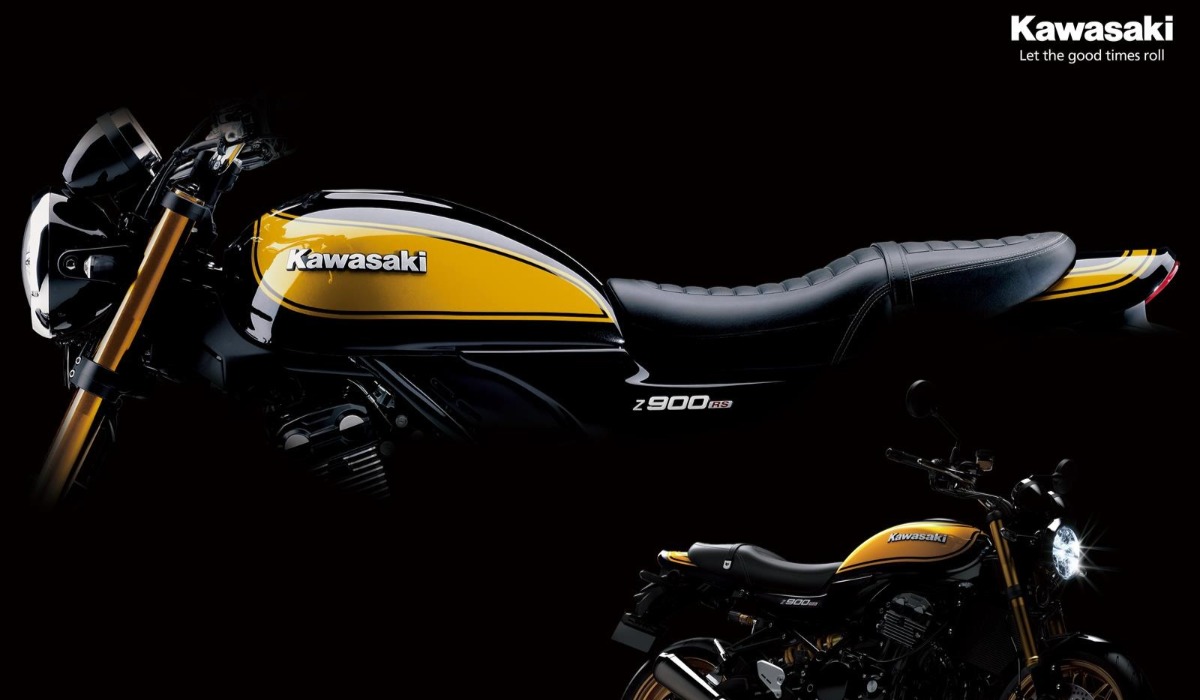 The legendary Ulster Grand Prix might have been postponed again for 2021, but the iconic Dundrod circuit just outside of Belfast in Northern Ireland has been the scene of success for many Kawasaki riders over the years.
First held in 1922 on the older 20.5. mile Old Clady Circuit, the current 7.401 Dundrod course was introduced in 1953. Since then, it has established itself as the world's fastest road race, with the current record an incredible 136.415mph average lap!
With such an illustrious history, the event has seen lots of success for Kawasaki-powered riders. In recent years, Dean Harrison has taken his Ninja ZX-10R to the top step in the Superbike class while the likes of Christian Elkin, Dan Cooper, Derek McGee and Ivan Lintin have all taken honours in the Supertwin category.
Prior to that, victories across the Superbike, Supersport and Superstock races came at the hands of Ryan Farquhar, Connor Cummins, Michael Dunlop and Ian Hutchinson. A number of these wins came from the McAdoo team, and with no race for 2021, we thought we would catch up with McAdoo Kawasaki Team Manager Jason McAdoo
"The McAdoo team has a long history with the Ulster Grand Prix, first racing there in 1983 – our first year as a team – with Paul Cranston.
It's a special circuit – so fast and flowing but with all the hallmarks of a real road race. The event was originally Northern Ireland's world championship round and always had that special feel about it. The legendary Joey Dunlop won his five F1 world titles with the Ulster GP as one of the rounds, as did Brian Reid in his F2 championships years, who later raced for the McAdoo team in 1993 and 1994.
We've competed there with many riders over the years and got our first podium with Alan Irwin. Our first wins at the Ulster GP came with Bob Jackson in 1997 and it was a special feeling to say the least. Bob was fantastic around Dundrod winning many races on the circuit – another highlight was pushing Philip McCallen all the way on our ZX-7RR Kawasaki in the 1997?Superbike race before an exhaust problem saw him settle for second.
We went on to have success at the circuit with Ryan Farquhar but perhaps the most exciting days came in 2006 when Ian Hutchinson was riding the McAdoo Kawasaki bikes.
'Hutchy' rode superbly all week and smashed the 600cc lap record at 125.433mph on the McAdoo Kawasaki Ninja ZX-6R. This achievement was eclipsed though when he went on to set a new outright world record lap of 130.828mph on the McAdoo Ninja ZX-10R – a speed which labelled Dundrod as the fastest circuit in the world.
This record had been broken before we returned to the Ulster in 2009, this time with Manxman Conor Cummins riding for the team. Conor was flying and with TT podiums that year was confident of more success at?Dundrod. His confidence was well-founded when Conrod again gave the team a new world record lap of 133.28mph, going on to win two Superbike races on the ZX-10R. It was a brilliant event for us, especially as Kawasaki were celebrating 25 years of the 'Ninja' brand and leaving there again as world record holders was a fitting celebration.
The circuit lends itself to fantastic racing with so much slipstreaming and high speed corners. We've been involved in some fabulous races there including Michael Dunlop and more recently the late James Cowton who scored another podium for us on the Kawasaki 650 Supertwin in 2016.
Adam McLean won the Supertwin race at Dundrod in 2018 and, hopefully, we can have more success there in the future. The event has so much history and support always attracting huge crowds – we can't wait to get back there in 2022."
We can't wait for the 2022 Road Racing season to get underway and we can't wait to return to the Ulster Grand Prix to see how our Team Green riders and teams get on!